Top 10 Best Pedometer Apps Reviews
Do You like to know Your walking day result?

How much steps did You walk every day?

5000?10 000?2000?

Read Top 10 Best Pedometer Apps Reviews and choose the best Pedometer app for You!


Pacer App Features:
It has an Activity Tracker - it comes with an activity tracker that is very vital for tracking all your fitness activities to ensure that you are within your fitness goals.
Access to a Large Community Network - it has the capability to connect to a community fitness enthusiasts drawn from around the world to support and help you achieve your fitness goals.
Goal Setting Tools - it is fitted with tools that assist you in goal setting and monitoring those goals to ensure you meet them hence improving your fitness efficiency.
Weight and BMI Tracking - it comes with a tracking tool that is optimized to measure your weight and your BMI so that you are notified whether you are making any progress with your fitness.
Conclusion
This application is a must get since it is absolutely free and is available for users who are both on Android and iPhone operating systems. Apart from its compatibility with many applications, it also comes with critical features like weight tracking, BMI tracking, and activity tracking. All these are critical for you to achieve your fitness goals.
Download for IOS here »
Download for Android here »
Pros
There is no need for any extra wristband or hardware for you to be able to use the application;
It is a free pedometer app and once you download it you can start using it immediately;
It records steps, calories, and distance for a variety of exercises like walking, jogging and running hence giving you a wide range of options for your fitness activities;
It offers a wonderful trends analysis for your steps and weight to keep you both updated and motivated.
Cons
The application has the disadvantage of crashing every time users try to download an update for it. 
Stepz App Features:
Apple Motion Coprocessor - it is designed with the Apple Motion Coprocessor that works in the background to ensure that your steps are accurately monitored and recorded.
Statistics Displays - the application ensures that you get to interact with the data that gives you information on your fitness through a rich data display of calories burned, distance traveled and floors climbed.
Apple Health App Compatibility - it is compatible with the apple health app to enable you to connect and retrieve all your health information so that you can monitor your fitness progress.
iOS 8 Widget - it also comes with an iOS 8. Today Widget that will give you timely notifications of your fitness activities throughout the day.
Conclusion
If you have access to Apple devices then you will find this pedometer app very convenient for monitoring your fitness activities. It stands out for the simple fact that you can use it to monitor your fitness across a timeline as to establish whether progress has taken place.
Download for IOS here »
Pros
If you value your privacy you will find it useful as it upholds the user's privacy since all the information is stored within the application and is not accessible by any external network.
It has tools that help the users download and monitor their fitness over a long period of time to see they are making any progress.
It can connect to the Apple watch to enable you to monitor your fitness activities conveniently from your wrist.
It can connect to the Apple watch and the iPhone to enable you to follow your fitness activities from multiple devices.
Cons
It is only compatible with iOS devices which locks out Android users from accessing it.
Accupedo App Features:
3D Motion recognition Algorithm - since it is primarily used for the purpose of monitoring one's steps it is designed with a 3D motion recognition algorithm that optimizes it to measure one's steps very accurately.
Power Saving Mode - You can trust it to work for you for a very long time on a daily basis thanks to its power saving mode feature that will preserve the power of the device for you.
Timely Notifications - it will keep you updated on your fitness milestones thanks to its notification systems that will keep you updated on a timely manner.
Analysis Charts - it enables you to easily monitor your fitness progress over a given timeline thanks to its analysis charts. You have the option to set the charts to display analysis on a daily basis, weekly basis or monthly basis.
Conclusion
This is one pedometer app that you can rely on to give you accurate results when it comes to monitoring your steps accurately. It will also provide you with accurate analysis for measuring your progress over a long period of time. And it is a plus that the pedometer app can work over multiple devices running on different operating systems. It is worth trying.
Download for IOS here »
Download for Android here »
Pros
It provides a daily logs history that you can use to check your activity in terms of steps counts, distance, and calories burned.
It enables you to personalize your settings over a wide range of options likes sensitivity, weight or stride length.
You have the option to customize the display modes to fit your preferences be it steps distances, modes, calories or lap.
Cons
It counts during driving which can provide very inaccurate results over time. However, you can avoid this by placing it on driving mode.
It only monitors walking thus making it useless for other fitness activities like climbing stairs.
It does not monitor weight and BMI.
Runtastic app Features:
24 Hour Tracking Solution - it comes with a very well designed interface that will allow you to monitor your workouts throughout the day to achieve your fitness goals.
Customised Training Plans - the free app will ensure that you work out at optimal levels as per your goals by providing you with a great customized workout plan that you can use to obtain the best results.
Progress Pictures - it allows you to take pictures of your fitness journey so that you can do some comparisons along the way and establish whether progress has happened.
Health And Nutrition Guide - Your Nutrition is just as important as your fitness. This application thus goes a long way in ensuring that you have the perfect nutrition to match your fitness for better results through its elaborate health and nutrition guide.
GPS running App - it comes with a design that allows it to map out your fitness activities like running, walking and cycling. You can then store your favorite running routes or better yet map out new routes.
Heart Rate Monitor - it uses your phone's camera sensor to accurately measure your heart rate with great accuracy. And you can rely on it to do this throughout the day no matter what activity you are involved in.
Conclusion
This is an amazing pedometer application that you can use for your fitness activities since it monitors your heart rate, provides you with a health and nutrition guide and can help
you map out running routes. It is worth trying out.
Download for IOS here »
Download for Android here »
Pros
It comes with stand-alone workout options that you can use anywhere you want at your convenience.
It helps follow up on your body weight workout routines using your television.
It connects you to a community of workout enthusiast who will provide you with the support and motivation to achieve your goals.
It helps monitor your progress visually using pictures.
Cons
It is not a free pedometer app.
It does not have a variety of stretch exercises.
Breeze APP features:
Full-time Tracker - the device comes with a tracker that is optimized to run throughout the day to work with your phone to track your activities like walks and runs.
Progress Overview - in case you need to view your progress over a given period of time the pedometer app provides easy to understand analysis and daily briefings for that purpose.
Frequent Notifications - it is also designed to give you frequent messages during the day to help you make amendments to your day to day activities to achieve your fitness goals.
Works with a Built-in Motion Chip - unlike other applications that are normally very draining to the battery, this application is designed in such a way that it works with your phone's built-in motion chip so that it does not utilize extra energy from your phone.
Conclusion
You will love this app because it is quite easy on your phone's battery and it is free pedometer app. Also, if your primary fitness activity is walking or running it will be very beneficial to you. Unfortunately, it does not work with other operating systems apart from the iPhone.
Download for IOS here »
Pros
It is free and designed to be very easy to use.
It works with a good percentage of accuracy.
It works independently and does not require much of your attention after you download it.
Cons
It does not track bike rides so if this is your primary workout activity you will be disappointed.
It only works with the iPhone which excludes user of other operating systems like Android.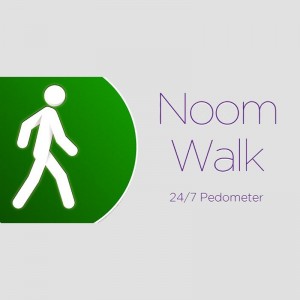 Full review »
Noom walk APP features:
Integration with Noom Coach- the device connects easily with the Noom coach to give you access to an effective weight loss plan that you can use to work on and develop healthy lifestyle habits.
Connect To a Community - it also allows you to connect to an online community through facebook, twitter or Gmail so that your people who can keep you accountable to achieve
your workout goals.
Automatic Step Counter - once you have it in your device the pedometer app works seamlessly to monitor your steps and record them throughout the day so that you are aware of your progress.
Designed with Smart Algorithms - it is designed in such a way that it works with smart algorithms and your phone's low battery sensors to effectively pick up your movements.
Conclusion
It is one pedometer app that can be your best fitness buddy when it comes to helping you in developing great fitness goals, however, it does not accurately measure steps which can be very counterproductive to your fitness goals.
Download for IOS here »
Download for Android here »
Pros
You do not need to use extra weight loss devices once you have it as it will track your steps and give you information on your progress.
It is designed to work for people who have both the Android and iPhone operating systems.
It helps you develop fitness goals and work through them to develop healthy lifestyle habits.
Cons
It is not 100 percent accurate so it can be unreliable sometimes.
It does work for other activities like riding bicycles and treadmills.
Fitbit App features:
Multi-tracker Support - it is optimised to enable work with different trackers in the same account. To ensure that it works effectively to discharge this role, it automatically notes
when you activate the tracker and works with it.
Tracks Weight - if you have been looking for one pedometer app that will work effectively to also track your weight then this is it. In order for you do this, you will need to connect
to the Aria Wifi Smart Scale that will frequently send weight statistics to your dashboard.
Exercise Calendar - to help you to keep up to date with your fitness goals is an exercise calendar that you can log in your works out to be getting frequent reminders and help you monitor your achievements.
Uses Mobile Run - the mobile run is a special feature on this application that helps you to monitor your walks runs and hikes on a daily basis. So it will keep track of pace, time, and
distance all through your workouts.
Conclusion
The only major drawback with this application is the fact that it does not uphold privacy but it is very effective for monitoring your weight activities and steps.
Download for IOS here »
Download for Android here »
Download for Windows here »
Pros
It tracks your sleep and uses the data to set for you sleep goals on a weekly basis.
It monitors your all-day activity and provides trends and statistics on your steps, distance, and calories.
It enables you to share your fitness journey with friends and followers through a variety of social media networks.
It gives you frequent notifications on your workout goals to push you towards achieving them.
Cons
You can only use this application with a Fitbit app tracker.
There are concerns that the data collected by the application is shared out with external parties.
Syncing the app can be frustrating especially after charging it.
RunKeeper Features
Inbuilt Goal Coach - it comes with a digital fitness coach called the goal app that helps you to set realistic goals that will spur you to achieve your fitness goals effortlessly.
Playlist Connect Feature - in case you love working out using your music playing in the background then you will find it useful as it comes with the capability to integrate
with Spotify and iTunes to play your favorite music.
Gives You Challenges - after you notify it of your goals, this pedometer app will develop for you challenges that you can follow through to give you that push you need to meet your fitness goals.
Gives You Prescribed Workouts - it also uses your fitness goals to customise for your workouts that you can follow throughout the week to hit your goals.
Conclusion
Runkeeper is one of those few apps that are widely used by fitness enthusiasts out there. I find it very convenient that it offers prescribed workouts, progress insights and live tracking to users. By all means, go for it.
Download for IOS here »
Download for Android here »
Pros
It has audio cues that you can customize to give updates on the distance, time, and pace covered.
It offers you training plans that you can use to measure your fitness progress.
It comes with Bluetooth connectivity which opens you to connect with other devices like headphones.
It has a stopwatch mode that you can use to monitor the time you take on your workouts effortlessly.
Cons
There are reports of it crashing during submission of training plans.
Argus App Features:
Low Battery Usage Technology - it is designed to effectively measure your steps throughout the day while consuming minimal battery thanks to the low battery usage technology that comes with.
Detailed Charts and Analysis - after collecting data on your fitness, the application notes it and provides very detailed analysis on the same. This can go a long way in helping you make informed decisions in terms of goal setting.
Multi- Activity GPS tracker - the pedometer application comes with a GPS tracker that works very efficiently to help you monitor a diverse number of fitness activities like running, cycling and walking.
Heart Rate Monitor - it has a very accurate heart rate monitor that uses the phone's camera to provide significant analysis of your heart activity throughout the day.
Personalised Weight Loss Plans - it can really help with your weight loss journey as it has very detailed weight loss plans that you can personalize and use to monitor your progess along the way.
Conclusion
The developers of the Argus Pedometer app have really outdone themselves on this one. It ranks highly since it can monitor your heart health. It provides amazing weight loss
plans and can track many activities. The only drawback is the in-app malfunctions which I believe can be fixed easily.
Download for IOS here »
Download for Android here »
Pros
It provides video workouts that you can choose from to burn calories or for your muscle building.
It connects to a global social network of fitness enthusiasts who can motivate you to meet your goals.
It provides you with challenges that you can take part in with family and friends throughout the day.
It helps you to monitor your sleep and use the tracker to wake you up at designated times.
Cons
The pause button does not work as intended thus it can make the data collected inaccurate.
The weight measurements are set to US standards which make it inconvenient for other people.
Walking App features
Site Integration - it will enable you to store all your fitness data on the Mapmywalk.com. This will prove effective in helping you stay on top of your goals and participating in challenges with friends.
Training Log - it has a very elaborate training log that will help you to record the duration, speed, distance and the pace that you cover on every workout.
Route Tracking - it also has a very good tracker that you can use to map the route you have coverd during your workouts which can be good for your personal post workout analysis.
Conclusion
This is a good application depending on how you choose to look at it. It will provide you with great analysis, allow you to connect to many devices and monitor diverse activities
using it. However, Under Armor has taken over the app which some users find inappropriate but it can be a plus in terms of making the app efficient.
Download for IOS here »
Download for Android here »
Pros
You can set it to provide you with audio feedback on the different milestones you will achieve during workouts.
You can use its routes feature to get the best routes to use and save your favorite routes.
You can connect it to 400 plus other devices so that you get a great analysis of your preference.
You can use it for a diverse number of activities to meet your fitness goals.
Cons
The app is in partnership with Under Armor and some users find this inconvenient.
Pedometer Apps Comparison

10 items to compare »