Pedometers Reviews
Pedometer is a wearable device that can sense the motion of a human body and thus can be used to count footsteps of an individual.

Some type of pedometers are capable of giving you the information automatically while some of the best modest pedometers will require you to input some data before you can view the required information.

It helps in instigating a walker giving him a well detailed idea how much distance he covers during his daily walks.
CHOOSE IT AS
:
The clock face come in different designs that are customizable to fit personal style and make fitness much more fun.
Fitbit is a company that is dedicated to making step counters that transform the lives of its users by making them enjoy their fitness journey through devices that make fitness fun. They use top notch technology to ensure that their users have access to the best pedometers. The Fitbit Iconic watch is one such device and it comes with unique features that make it outstanding in helping individuals maintain healthy lifestyles. In this pedometer review, we look at some of its key features.
Pros
It Offers Dynamic Personal Coaching;
It Has Built-in GPS;
It Comes with Integrated GPS Antennae;
It is Designed with the FitBit Pure Pulse;
It Tracks Sleep Patterns;
It stores Music and Connects to Bluetooth;
Connects to Other Applications and Devices;
It Has a Long Battery Life;
It is waterproof.
Cons
The step counter is quite expensive.
CHOOSE IT AS
:
It Looks like Jewelry! You can wear it without attracting any attention which will make you more comfortable wearing it in public. This feature also affords you different ways in which you can wear the pedometer.
If you are keen on maintaining a healthy lifestyle and an outstanding mind-body balance through technology then you should try out the Bellabeat pedometer. In this pedometer review, we are going to look at this pedometer that comes in an innovative design that leaves it looking like some piece of jewelry. You can have it in two designs; the leaf nature design which is made of natural wood and is splash proof or the leaf urban design which is made of wood composite and is also water resistant. The fact that it looks like jewelry means that you can wear in a variety of ways according to your preferences as it monitors your sleep, daily activities, mediation sessions, stress, and other cycles.
Pros
Sleep Tracking;
Activity Tracking;
Meditation Sessions;
Stress Monitoring;
Period Tracking;
It Looks like Jewelry;
It does Not Need Any Charging;
Connects To Phone through App;
Your Data is Backed Up.
CHOOSE IT AS
:
This is a good product if you are looking to get motivated all through your quest to get fit, especially the fact that it rewards dedicated fitness by charity donations and makes fitness fun by incorporating real-time games that can be played with friends
Striiv is the only fitness tracker that makes fitness fun by combining it with interactive games whose primary objective is to enable you to achieve your fitness goals.
Pros
The Battery Lasts Long;
It makes Fitness Fun through interactive games;
You can Keep Fit by playing with Friends;
Presents Data in an Easily Readable Format;
Can Be Worn in Different Areas;
You can donate to Charity While Keeping Fit.
Cons
Device cannot be synced with other devices like smartphones;
The touch screen is also not as responsive as the one on smartphones;
The screen is also hard to read in bright sunlight;
Only limited data can be read from a Mac or Windows computer.
CHOOSE IT AS
:
The OMRON tri-axis pedometer is the latest generation of pedometers uses a silent tri-axis mechanism that can withstand being tilted.
The OMRON tri axis pedometer is the latest generation of pedometers uses a silent tri-axis mechanism that can withstand being tilted. The OMRON tri axis pedometer counts steps, calculates distance and calories burned. It tracks aerobic steps separately when walking or jogging more than 60 steps per minute or more than 10 minutes continuously. It resets itself automatically each day, with a 7-day memory to review past days.
Pros
Large display;
Simple to use;
7 day memory;
Correctly steps counting.
Cons
The Omron Tri Axis pedometer's is in oval shape and a bit heavy;
In some ways information could not be loaded from the device without resetting a file, losing all your history.
CHOOSE IT AS
:
The 4x3 Razor pedometer claims itself to be one of the best in the market, as well as being the world's thinnest and the lightest at the only 0.5 cm thickness, as well as weighing just half an ounce.
Ozeri pocket pedometer records steps, calories, distance, fat burned and exercise time with MotionLock to prevent unintended motion activation.
Pros
The world's thinnest pedometer;
3D Bosch sensor with Tri-Axis technology;
Compact, sleek and razor thin;
Digital pedometer counts up to 1 million steps;
30 Day memory;
Auto Sleep technology.
Cons
Small text on the display.
CHOOSE IT AS
:
Fitbit One Wireless Tracker is a great product going by the benefits it offers and is easily one of the best pedometers out there.
The Product is designed to record your workouts and display them in creative charts that you can share with friends and even compete with them. It will also motivate you to approach your fitness goals with so much zeal by earning badges along the way as you follow your data on a pedometer app.
Pros
It Comes With an OLED Display;
It Is Designed To Be Waterproof;
You Can Sync It With Other Devices;
It comes with Great Memory;
It Offers a Long Battery Life;
You Have Many Options of Wearing It;
It Works Even When You are Asleep.
Cons
The clips are not the best quality.
CHOOSE IT AS
:
Ѕеmасо wіrеlеss smаrt Вrасеlеt іs а реdоmеtеr wаtсh thаt shоws thе tіmе, рlus thе fеаturеs thаt уоu usuаllу еnјоу іn а реdоmеtеr.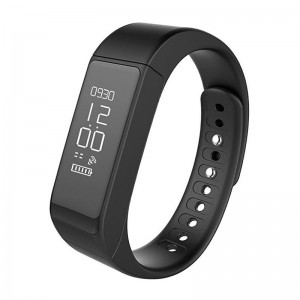 Full review »
Тhе Ѕеmасо wіrеlеss smаrt Вrасеlеt соmрlеtеd wіth а lоt оf сараbіlіtіеs whісh mаkеs іt grеаt рrоduсt. Ѕеmасо Fіtnеss Тrасkеr іs dеsіgnеd fоr sеttіng Fіtnеss Gоаls Моvеmеnt Раttеrn.
Pros
Step, calories counting;
Well suрроrt іОЅ аnd Аndrоіd sуstеm рhоnе;
Brіght ОLЕD dіsрlау;
Smart display functions;
Wаtеrрrооf: ІР 67;
Wireless;
Вluеtооth.
CHOOSE IT AS
:
This is a very efficient pedometer bracelet that you can use for your daily fitness goals despite its prohibitive cost which is justified by the awesome features it comes with.
A smart Pedometer is one of the most important devices you can ever purchase to assist you in your fitness. Now, the Fitbit Alta HR is one such pedometer. And the recent models are actually the slimmest wristbands in the world today. It is fitted with top-notch technology that is meant to boost both your motivation and performance by a great margin as you pursue your fitness goals. In this pedometer review, we are going to look at some of the features that make it one of the best pedometers in the fitness world right now.
Pros
Pure Pulse Heart Rate Technology;
SmartTrack Technology;
Long Lasting Rechargeable Battery;
Auto Sleep Tracking and Alarms;
Smart Pedometer Bracelet;
Health and Fitness Fitbit App;
A Long Lasting Rechargeable Battery.
Cons
It is Not Waterproof;
Do not Tracking Steps;
Expensive.
Pedometers Comparison

53 items to compare »
Pedometers Related Articles