Benchmark 6203
Category: Electric Grills, Brand: Benchmark , Model: 6203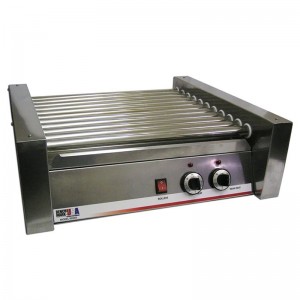 Check this product online »
Release date:
2013
Basic info:
Size:
20 x 22 x 8 in
50.8 x 55.9 x 20.3 cm
Weight:
27 lb
12.2 kg
Color:
Stainless Steel
Coating Type:
Non-stick
Accessories:
Cover:
Removable Stand:
Drip Tray:
Fat-Removing Slope:
Temperature Control:
Cooking Area Type:
Indoor:
Outdoor:
Other:
Power:
1100 W
Prices:
Amazon's price:
Old price:
381.61 $
You save:
22.21 $
Item URL for sale on:
Amazon.com
30 Dog roller grill. Stainless steel construction, removable drip trays and non-stick rollers ensure ease of cleaning. All of these grills feature a high-torque motor and are covered by Benchmark USA's exclusive three-year warranty.
360 Degree roller rotation insures evenly cooked hotdogs. Optional sneeze guards and dry bun boxes are available for all three models.
Removable drip tray collects grease for easy clean up.
Non-stick stainless steel rollers make cleaning a breeze.
Accommodates any size hotdog and many sausages and breakfast links. Front and rear heat controllers (on 20 and 30 dog models) for cooking and holding. High torque motor for years of durability. 120 Volts. 1100 Watts. 9.2 Amps. Measures 22" width by 8" height by 20" depth
Electric Grill Comparison

53 items to compare »
Electric Grill Related Articles