Brentwood TS-640
Category: Electric Grills, Brand: Brentwood , Model: TS-640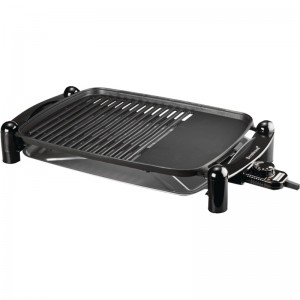 Check this product online »
Release date:
2015
Basic info:
Size:
13.3 x 21 x 4.4 in
33.8 x 53.3 x 11.2 cm
Weight:
6.7 lb
3.0 kg
Color:
Black
Coating Type:
Non-stick
Material Type:
Aluminum
Accessories:
Cover:
Removable Stand:
Drip Tray:
Fat-Removing Slope:
Temperature Control:
Cooking Area Type:
Indoor:
Outdoor:
Other:
Power:
1200 W
Prices:
Amazon's price:
Old price:
59.95 $
You save:
29.54 $
Item URL for sale on:
Amazon.com
Features
Avoid the mess and expense of grilling outside!
This 1,200-watt indoor electric BBQ grill from Brentwood appliances makes indoor fat-free grilling easy.
The TS-640 features nonstick coating, cool-touch handle and a removable adjustable thermostat control with LED light indicator.
The indoor electric BBQ grill is designed for easy cleaning.
Weight: 7.8lbs.
Dimensions: 3.25"H x 22"W x 12"D.
Electric Grill Comparison

53 items to compare »
Electric Grill Related Articles