Beltone Bold 65
Category: Hearing Aids, Brand: Beltone , Model: Bold 65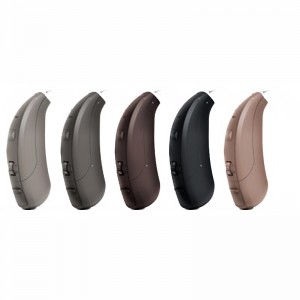 Check on producer's site »
| | |
| --- | --- |
| Release date: | 2016 |
| Basic info: | |
| Colors: | Light grey/Grey/Brown/Black/Beige |
| Wearing Type: | BTE |
| Exchangeable house: | |
| Battery: | |
| Battery Type: | size 312 |
| Duration: | 365 Days |
| Rechargeable: | |
| Charging Indicator: | |
| Functions: | |
| Adjustable Sound Level: | |
| Amplification Programs: | 4 |
| On/Off Switch: | |
| Frequency Modes: | |
| High & Low Tone Control: | |
| Digital Noise Reduction: | |
| Tinnitus Control: | |
| HD Music Program: | |
| Remote Control: | |
| Software: | |
| App: | |
| Connectivity: | |
| Smartphone: | |
| iOS: | |
| PC: | |
| Wi-Fi: | |
| Bluetooth: | |
Beltone Bold features advanced technologies to help you hear better. It gives you the power you need, so you can follow what's going on around you without distraction. Beltone Sound Shifter™ can make high frequency sounds, such as the voices of children or birds, easier to hear, while Adaptive Directionality™ and Speech Spotter™ options help you hear the conversation, even in noisy situations.
Tough, Robust and Long-Lasting
Beltone Bold is built to last. This robust hearing aid is coated with a protective layer, called HPF80 NanoBlock™, inside and out, to shield it from water, moisture and perspiration, so you can enjoy a more active life. HPF80 NanoBlock increases the lifetime of your hearing aids to help give you years of trouble-free use.
Get the Most Out of Life
Strong, comfortable and reliable, Beltone Bold helps bring back the sounds of life. High quality sound and an excellent feedback management system keep you aware of everything that's going on around you. Ergonomically designed for comfort, this attractive hearing aid sits comfortably behind your ear.
Beltone Bold Features
Type of hearing loss - Best suitable for the following hearing loss levels;
Colors - 5 skin and hair tones;
Protection - HPF80 NanoBlock Technology;
Sound Quality:
Speech in noise recognition;
Spatial Directionality;
Background Noise Reduction;
Feedback Cancellation.
Hearing Aids Comparison

38 items to compare »
Hearing Aids Related Articles