Siemens Signia Pure 13BT
Category: Hearing Aids, Brand: Siemens , Model: Signia Pure 13BT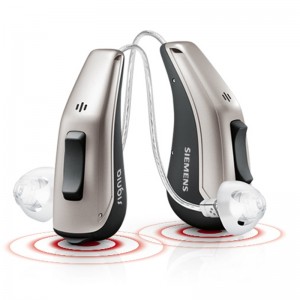 Check on producer's site »
Release date:
2017
Basic info:
Colors:
11 colors
Size:
1.2 in
3 cm
Wearing Type:
BTE
Exchangeable house:
Battery:
Rechargeable:
Charge Type:
Charging station, Car adapter
Charging Indicator:
Functions:
Adjustable Sound Level:
Amplification Programs:
4
Ear tips:
3 size
On/Off Switch:
Frequency Modes:
High & Low Tone Control:
Digital Noise Reduction:
Tinnitus Control:
HD Music Program:
Remote Control:
Software:
App:
Connectivity:
Smartphone:
iOS:
PC:
Wi-Fi:
Bluetooth:
The world-leading Signia experience just got even better with a new era in Bluetooth-driven hearing.
The new Pure™ 13 BT delivers effortless hearing for your individual lifestyle. Stay connected to everything that matters whether you are taking it easy or on the move.
Benefits
Get Used to Your New Hearing Aids As Quickly as Possible
Personal care, anywhere: The myHearing App provides you with all the support tools you need for a relaxed journey to effortless hearing. You can follow special listening exercises, consult the user guide and connect to your Hearing Care Professional on the go. Your Hearing Care Professional will be happy to advise you.
The Best Hearing Experience Just Got Even Better
In combination with the myControl App, Signia Pure 13 BT gives you better than normal hearing* tailored to your individual lifestyle. The app does more than enable direct streaming, it also sends information to your hearing aids for the best possible hearing while you are on the move, ensuring your relaxation and safety whatever comes your way.
Six Advantages of Bluetooth-Driven Hearing
Motion reader - The hearing aids adjust their settings based on the myControl App's motion data to deliver optimal hearing even when moving.
Sound exposure - The hearing aids help you to look after your hearing health. Similiar to a fi tness tracker, they create your own individual sound profi le over time based on noise exposure so you can learn how to protect your hearing.
Phone calls - Stream phone calls directly from your smartphone to your hearing aids for complete convenience.
StreamLine - TV Thanks to StreamLine TV, audio from your television can be fed directly into your Pure 13 BT hearing aids. You can even adjust the volume individually via the myControl App.
Music - Listen to your favorite music streamed directly into your hearing aids for an outstanding sound experience.
Signia tinnitus solutions - Tune out tinnitus with the unique built-in tinnitus therapies from Signia. Ask your Hearing Care Professional which solution is best for you.
Enjoy Life's True Sound
Whether you're working, shopping or eating out – holding conversations in busy places is tiring. Even people without hearing loss know this. Pure 13 BT gives you effortless and better than normal hearing in such challenging situations. And in combination with the myControl App, Pure 13 BT delivers the optimal personalized listening experience so you can focus on what's important whatever you're doing.
Hearing Aids Comparison

38 items to compare »
Hearing Aids Related Articles