Zounds Hearing Imprezo
Category: Hearing Aids, Brand: Zounds Hearing , Model: Imprezo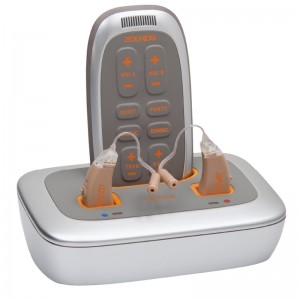 Check on producer's site »
Release date:
2016
Basic info:
Colors:
Beige
Size:
Small in
cm
Wearing Type:
BTE
Exchangeable house:
Battery:
Duration:
1 Days
Rechargeable:
Charge Type:
Charging station
Charging Indicator:
Functions:
Adjustable Sound Level:
Amplification Programs:
20 channels
On/Off Switch:
Frequency Modes:
High & Low Tone Control:
Digital Noise Reduction:
Tinnitus Control:
HD Music Program:
Remote Control:
Software:
App:
Connectivity:
Smartphone:
iOS:
PC:
Wi-Fi:
Bluetooth:
With its unprecedented sound quality and extended battery life, the Imprezo's state of the art technology is again revolutionizing the hearing aid industry.
This ultra-premium, fully digital hearing aid features 20 channels, each adjustable to provide the best possible compensation for the wearer's hearing loss, and best-in-class fidelity. Imprezo's state-of-the-art features include the new Intuitive Noise Cancellation3™, the next generation of Zounds' acclaimed noise reduction software. In addition to Feedback Management and Shock Sound Suppression with EnviroSenze Ultra™, the Imprezo adds ZActiveLife, ClearSpeak, and LifeStyle Analytics - all standard. A variety of tip choices means better wearer comfort and optimal performance. The Imprezo is also rechargeable, offering 24 hours of use with a full charge. Simply drop the hearing aid and remote control in the included charger and wake up to fully charged hearing aids – never buy batteries again!
Fitting Range: The Imprezo20 offers the widest fitting range, from moderate to profound hearing loss. Zounds' power link provides the ability to treat severe hearing loss, despite its discreet size. It is arguably the smallest power product on the market.
Imprezo Features
Intuitive Noise Cancellation3™
Noise cancellation on the Imprezo consists of three coordinated elements. Using a matched pair of microphones, a directional noise reduction system reduces ambient noise by up to 90%. This forms a focused cone of listening towards the front of the patient. Next, a steering mechanism orients the area of greatest noise suppression in the direction of the strongest noise resulting in even better clarity. The noise that remains is now addressed by a fully adaptive temporal noise reduction algorithm that incorporates the ability to distinguish speech and music from noise, thus providing excellent noise reduction performance without sacrificing or distorting the sound that the wearer wishes to hear.
Feedback Management
Feedback control has always been an area of strength for Zounds' hearing aids and the Imprezo brings new features to the arsenal. The first of these is an improved feedback cancellation digital filter which is better able to predict the feedback component so that it can be eliminated. A significantly reduced processing delay means that feedback can be cancelled in about a third of the time as our previous hearing aids. Adaptive entrainment control is a new feature that further reduces any remaining artifacts by dynamically adjusting the feedback canceller's constraints to a user-specific, trained, coefficient set. Finally, a patented system of five adaptive notch filters, driven by an advanced feedback detection algorithm, attacks feedback components as soon as they appear. Together, this truly puts 'feedback on hold.'
ZActiveLife / WindShear
A new wind noise reduction capability is standard on the Imprezo. A high performance wind detector is used to determine when wind is present and a digital filter is deployed to reduce its impact. Enjoy the outdoors again!
EnviroSenze Ultra
The Imprezo brings new capabilities in its ability to adapt itself to the auditory scene. The ambient sound pressure level is continuously monitored and is used to dynamically adjust the aggressiveness of the Intuitive Noise Cancellation3 so that it is fully active in high noise scenarios but backs off when the wearer moves to a quieter scenario. The new MicArray Sync feature continuously monitors the health of the microphones and adjusts their output so that the directional noise reduction system operates perfectly - even when the hearing aid is repeatedly exposed to the elements.
Shock Sound Suppression
With the Imprezo comes the Shock Sound Suppression system that minimizes the transient impact of short sharp sounds like car doors being closed.
Clear Speak
With the Imprezo, the days of not knowing which mode the hearing aid is operating in are history. In response to remote commands to switch between Party, Music, Dining, and optionally TCoil modes, the hearing aid confirms the mode change with a spoken notification. In addition, low battery notifications are also provided with a spoken notification so that there is no ambiguity. Male and female notifications are available as choices with an adjustable sound level.
LifeStyle Analytics
Zounds recognizes that it's not possible for wearers to record everything about their hearing aids and describe each situation on their next visit to a Zounds Hearing Center. Imprezo introduces the new LifeStyle Analytics feature that maintains a log of the hearing aid's condition and environment of up to a year's worth of information. The hearing consultant can use this information to make adjustments to the fitting, provide advice on usage, change the battery, or perform other maintenance so that the hearing aids continue to perform to the best of their capability.
Empower Remote Control
Imprezo offers you control at your fingertips with its Empower Remote Control. Four distinct programs - Dining Mode, Party Mode, Music Mode and Quiet Mode settings – allow you to fine tune your listening experience, depending upon your changing environment. Bass, Treble and Volume settings are also adjustable. Settings are individually programmed to the wearer's needs by Zounds' hearing professionals. Take control over your listening experience!
Globa lEnergy™ Charging System
The convenience of Zounds' GlobalEnergyTM Charging Station frees you from ever buying hearing aid batteries again! Simply drop the hearing aids and remote into the charger at bedtime and wake up to fully charged hearing aids. The Imprezo's batteries hold a 24 hour charge after eight hours in the charging station.
Hearing Aids Comparison

38 items to compare »
Hearing Aids Related Articles